Looking to stick your phone to any surface?
Sticking your phone to any surface is very useful as it keeps your hands free wherever you are. While driving, at the gym, on a kitchen cupboard while cooking, on the bathroom mirror while putting on make up and the list goes on..
But is it really possible?

Wouldn't it be great to be able to stick your phone to any surface while you go about your daily life? In this photo: iPhone 7 Plus is stuck on a kitchen cupboard (with no glue or any adhesive).
How can you stick your phone to any surface?
To answer this question we first need to understand why you want to stick your phone to any surface in the first place. It may sound obvious, but the answer might be different for different people.
For example, someone who is constantly on the go and travel a lot, may need this to stick their phone on a plan back-seat or on their car dashboard while they drive.
Others may need it to stick their phone to a gym machine while they exercise and listen to their favourites tunes or podcasts.
Others may love taking selfies or create vlog-posts no matter where they are and without any tripods or bulky stands.
The true fact is that you can stick a phone to any surface and there are actually several products out there that can help you achieve just that.
So which product should I buy if I want to stick my phone to any surface?
Many years ago, scientists created a new material which is composed of millions of nano-suction-cups (very similar to a suction cup phone holder, like the one you would use on a car windscreen or dashboard) arranged next to each other on a small surface, which created a very sticky material without the use of any glue or adhesive.  The suction cup material had an amazing glue-like properties. You could literally stick anything to that material and it will hold & grip it without any issues.

Nano-suction technology is trying to mimic the amazing ability of a Gecko which can literally 'get stuck' on almost any surface.
Not long after, this new material was used in a range of phone accessories products. The launch of an 'anti gravity' phone holder was soon to follow and this hight-tech yet simple idea became a very popular 'anti-gravity' phone cover.
Anther successful phone accessory product was the anti-slip matt, which was used as a phone holder for car. You would just stick the anti-slip mat on to your car dashboard and then stick your phone on to it.
Few years passed by and many people were using the range of products which were made using this cool technology, but since it was first invented – not much had changed.  Many users reported that although their anti-gravity phone cover or car dashboard non-slip matt were doing their job, it turned out that this sticky material also gathered a lot of dirt & dust from the environment and soon it lost its stickiness, which was not so great.
One of the main issues with this special material is that you can't 'switch it Off', meaning that no matter where you place your phone the sticky phone cover always 'got stuck' on to the surface you were placing your phone on to. It was also quite difficult to put your phone in your pocket or inside your bag (as it was pulling some other stuff from your bag while you were getting your phone).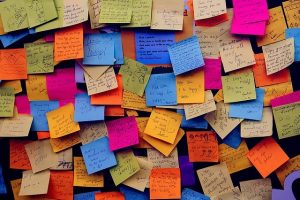 Very similar to sticking a sticky note to a wall, after you use it several times – it loses its stickiness, as it starts to gather dust & dirt.
GRIPAD™ for the rescue! The next-generation mobile devices holder.
The industry needed a new product that will not only enable you to stick phone to any surface, but also to protect it from collecting dust & dirt and as a result loosing its grip. In a sense there was a need to be able to 'switch the sticky material OFF' when you don't need its glue-like properties.
Although many scientists are still working on this new technology, no one had managed to do that, at least not in the capacity of a mass produced consumer product.
Some companies tried to be innovative and find creative solution for this problem, and only one small company (based in London) managed to find an ingenious idea!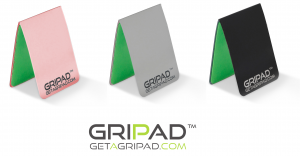 Say hello to GRIPAD™‹ – stick phone to any surface and 'switch it Off' when not in use.
GRIPAD™ is a one-of-a-kind mobile devices holder, it allows you to stick ANY mobile device to ANY flat surface. Its sticky properties derive from a material called PU Gel (made of Polyurethane) which very like the nano-suction material has amazing glue-like properties, but unlike glue the PU Gel does not leave any marks or residue when it detaches from the surface.
What separates GRIPAD™ from all other phone holders and tablet holders is the fact that you can cover its sticky area when you don't need to use it.
So how does this next-generation mobile devices holder work?
GRIPAD™ has 2 sticky areas: one which is attached to the back of your phone/tablet and the other which you stick to any flat surface (when you want to grip your phone/tablet on to that surface). The real difference with GRIPAD™ is that it has a flap / cover, which covers the sticky area which is used to stick your devices to different surfaces. So when not in use the flap is protecting that area from catching dust & dirt.
To use this cool gadget, all you need to do is to attache it to the back of your mobile device and that's it! Once you want to grip your phone/tablet to any flat surface, just open the flap (the part that protects the sticky area) and stick your phone on to it. Once you want to remove your phone from that surface, just detach your phone/tablet from it and close the flat (so the stick area is protected).
Once the flap is closed, the sticky area will never catch any dust & dirt and it will also be very easy to carry around your mobile devices without getting them stuck to things.
As an example; Let's say you have a GRIPAD™ stuck to the back of your phone or tablet and you have just boarded a plane and want to stick your phone or tablet (or both) on to the back of the seat in front of you.
All you need to do is to open the flat and stick your device to the back of the seat, once done, just detach the device from the back of the seat and close the flap – it's that easy!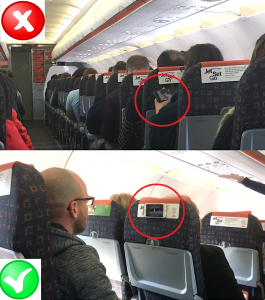 Stick your phone to any surface – in this photo a passenger using GRIPAD™ on a back of seat on an EasyJet plane, while the other passenger (with no GRIPAD™) is holding her phone in her hand..
and how strong is its grip?
GRIPAD™ has a strong grip, a really strong grip! It actually can carry the weight of the largest mobile device available, so this includes any Plus type of phone and all types and models of tablets, Kindle and so on.
As long as you stick your device to a surface that is flat and clean GRIPAD™ will keep your device stuck to that surface safely and securely. When you want it off that surface, just detach it from the surface, close the flap and away you go!
GRIPAD™ is used on a transatlantic flight and stuck to the back of a seat, As you can see in the video, it holds the tablet easily and securely.
Ok, so where can I buy GRIPAD™?
GRIPAD™ is currently available on Amazon.co.uk website and delivers to more than 82 countries around the world!
Just pick your colour (GRIPAD is available in 3 colours: Black, Space Grey and Rose Gold), provide your delivery address and it will be on its way.
100% Money Back Guarantee
We're sure you'll love our GRIPAD, but to give you complete peace of mind, we offer a 100% money back guarantee! Buy now with total confidence. If you're not completely satisfied we'll refund every penny.